~ Hey, Johnson, Whaddaya Say, We all Wanna Know What You Did Today ~
I decided to take on one of the most feared of home improvement monsters... the
ENCROACHING GARAGE JUNK MONSTER
Continue... IF YOU DARE!!!
The target: Our garage closet, the most poorly used space in the house.
Before:
The Solution:
3 wire shelf units, 5 shelves each: 12"x18"x84, 12x48x84, and 12x60x84. 630 square feet of shelf space.
The results: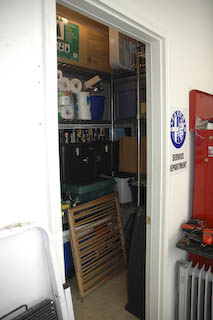 Not too shabby for a day's work. Next I have to de-grease the floor, and the garage will no longer be a giant junk closet. It will again be ready for its intended use: fixing goofy old sports cars!
Posted by scott at
04:51 PM
|
Comments (8)